Colite Helps BizTown Shine
Having been in business since 1947, we've enjoyed our fair share of ambitious and noteworthy projects over the years. Yet, there are few causes which truly captivate our spirit like the Junior Achievement organization.
Aiming to prepare young people for success in an increasingly globalized economy, Junior Achievement relies on its volunteers, donors, and sponsors to create authentic experiential learning opportunities that instill financial literacy, work readiness, and entrepreneurial skills that will serve students for a lifetime.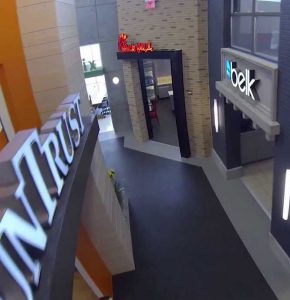 Colite is proud to join this incredible effort once again, partnering with InterContinental Hotels Group to help Junior Achievement of Georgia transform the Georgia World Congress Center into JA BizTown. By providing some of the same real-world signage that we create for our clients, we're able to help make BizTown just as life-like as the city outside.
In the heart of Atlanta, 6th grade students work together in this realistic economy to face the challenges of fueling a business head-on. Here, they will navigate the complexities of being both a professional and a member of the community – while discovering the wealth of opportunities that exist within their own city.
We encourage you to take a few minutes and learn more about JA BizTown and the wonderful mission of our friends at Junior Achievement – we think you'll agree, it's nothing short of amazing!